Description
Exit Road Violation Detector and Software,
Exit Road violation Camera is a traffic enforcement camera that recognizes violative drivers who violate the traffic rules. New camera tech could catch drivers who broke the Exit Line.
Explanation,
Main roads have an exit way and you need to take the first Right lane around 100 meters away before approaching to Exit.
Because of busy traffic in the first Right lane and most Drivers want to change to the Right road in hurry, they better stay in the second lane than they will drive fast till they reach the final Exit way. In this case, it
was a big problem that cause an accident between the cars aligning in the right laneway and also to the driver that hurriedly changed lanes directly at the Exit way. So everybody will complain and get heat headed.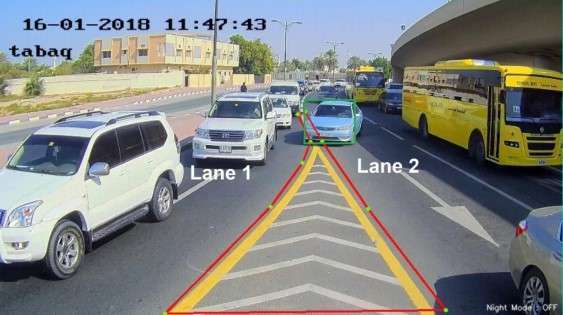 For this purpose, we produced an intelligent system to make the solution for this Violation.
Our product is included,
One Camera
One Processor
One Software
One Post
It can be installed on any exit road fork, only we should set up our software to be compatible with a specific fork as the customer desired.
Camera,
Our Camera can record all the Violations and send them to the police station to make fine the drivers who violated traffic on the Exit way road.
As you can see above picture shows the Blue Car which is violating the traffic rows. The camera records the video and our software automatically detected the Violator's Car.
As you can see the Red line in this picture we drew it on our software, so if one car crosses this Red line from Lane 2 to Lane 1, its image and video will be recorded for a few seconds (this depends to
client request).
Advantages of the MTP POLAND System,
MTP Poland Exit Road Violation Detector system will solve all of the above faults,
Our software advantages are:
Removing the Shadow effect,
Removing Human effect,
Removing the Trash effect,
Removing the Bicycle effect,
Removing Animal effects,
Removing the Car light effect,
Removing Curve effect,
Compatible with all brands of camera video: our program can be matched with all brands of cameras so it doesn't push extra charge to the client if he has an available camera,
Sensitivity to Traffic: Our software can detect the traffic and it will be automatically activated only at busy crowded times. So if the traffic is not busy, the software can ignore violators. And also our Client can adjust our software sensitivity to traffic and it depends on their requirements.
Specification,
Power Supply: 210- 240 vac,
Maximum Power: 50 watts,
Detection violation Day and night,
Saving violator car image and video,
Online transferring data or manual(optional).
Useful Points,
MTP is a manufacturer of Traffic Products and Smart Traffic Cameras & Radars.
MTP offers you a wide range of Traffic-Related Products, One stop solution for engineering, electrical, electronic, and technological needs,
To Order this product or any other so please Contact us and please follow our social media platforms Facebook, Instagram, LinkedIn, Twitter, and YouTube, for any future updates or queries.