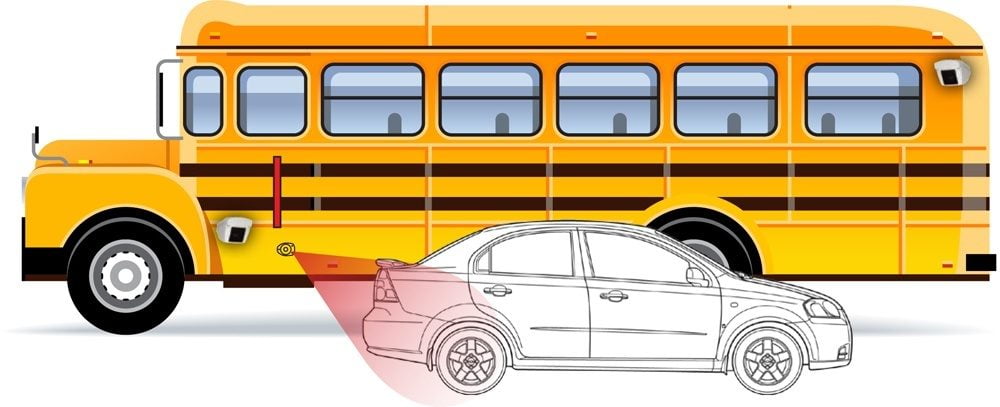 Description
Take action to protect students outside the bus by Bus Stop-Arm Violation Radar
Stop-arm camera solution helps keep drivers focused on safe off-loading and on-loading of students by automatically capturing stop-arm violation events and tagging them with relevant details such as date, time co-ordinates required for law enforcement review.
Stop-arm violation trigger event recording without driver intervention,
Capture license plate numbers of violators in high-definition
Tag video evidence with date and time,
Upload stop-arm events automatically to control room via WIFI in the yard or upload on time to control room server with a modem, How Stop-arm solution works?


1: Vehicle illegally passes the bus:

 A sensor installed directly below the stop-arm camera will trigger a marked alarm on the video recording each time it senses a vehicle passing the stopped bus illegally (i.e. stop-arm engaged and flashers on).


2: Two camera angles capture the event:

A mini PC captures views of the event from both directions (oncoming traffic and vehicles passing on the driver's side).


3: Video evidence tagged: 

 mini PC recording is tagged with stop-arm violation and information such as date, time, etc…


4: Violation downloaded:

 When the bus returns to the yard, the video tagged as a stop-arm violation is automatically downloaded over Wi-Fi to a central server for review and processing.Immediately after stop sign open, mini PC start processing video from camera, and if detect any violation, record a few second video and picture of violator vehicle and automatically red vehicle plate number and save in its memory.

Video and picture along with plate number and date and time can send as online to the control room or can upload to the control room server via Wi-Fi after the bus reached the main station.

Rear and front distance detector:

Distance detector cameras are installed rear of the school bus, they continuously tacking video and send to mini PC. now you may ask what does mini PCs do in this system.


what does mini PC do in Bus Stop-Arm Violation Radar?

mini PC process video and if detect any car that closes to the school bus, it takes to capture and video of violator vehicle, then automatically read plate number and send this full data (time, date, image and video) to control room or save in its memory.

One distance detector camera also installs in front of the school bus, so if the school bus driver doesn't care about limited distance to the front car, the mini PC detects this violation and sends it to the control room or saves it in its memory.

you may wanna know how to order a Stop-arm camera

To order stop-arm violation Radar or any other product please contact us just by clicking here. If you have any questions, please do not hesitate to ask our support team.