MTP is a Traffic Product Manufacturer since 2006. 
We produce traffic products like solar traffic signs, solar traffic lights, solar traffic cameras, etc.
Traffic camera product by MTP: We produce smart traffic enforcement cameras.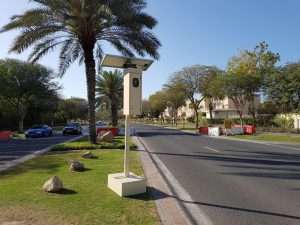 1- Mobile phone violation detection camera 
2- Exit road violation detection camera: If vehicles enter an illegal area they will find them. 
3- Traffic monitoring and flow camera system
4- crosswalk violation detection camera: Fines driver enters the crosswalk while pedestrians are passing it. Because too many drivers pass the crosswalk just after the pedestrian has passed their vehicle area. this device detects pedestrians automatically and fines the violator drivers.  
5- High-speed detection camera
6- ANPR (Automatic Number Plate Recognition )
8- School bus camera: It detects violators who move their vehicles while the school bus has stopped by the street.
Traffic radar product by MTP: We produce traffic radars like Your Speed Sign. And also traffic cameras which contain radar in their platform, Like speed camera and bus stop arm violation radar. Camera radar products use radar to detect violations and use the camera to read the number plate and fine them. 
These are other categories of our MTP, traffic product manufacturer :
Traffic signs 
Traffic signal ( Traffic lights )
You can click on their name to enter the product category and find out the product.
We are ecosystem friendly: We use solar panels in all of our products. They need no cable and they give off no greenhouse gasses. Tip: We produce electricity cable type of our products based on customer order. 
New inventions: Mobile phone the detection camera. it can be considered as a new invention this product is made for the first time by MTP engineers. Its result is highly accurate and makes no mistake. 
To order any of these products please click here to contact us.