Cellphone violation detection camera is one of the new MTP traffic enforcement useful products.
Every year too many bad accidents happen as a result of using a cellphone while driving. If the police see this violation he will certainly find the violator driver. But police are not present everywhere. The human brain cannot recognize this violation if the car's speed is more than 100Km/h.
Today, Talented engineers have made inventions to solve this problem. MTP is proud to present its engineer's new invention. Mobile phone Violation Detection Camera. This product detects violator drivers automatically and fines them. It does not need any cable. Its energy is generated from the sun by light cells. So this product can be regarded as an ecosystem-friendly product that uses green energy. Using green energy will cause greenhouse gasses to reduce and decrease the speed of global warming.
This platform sends its data to throw the internet to the police control room using a 4G modem router.


Cellphone violation detection cameras can be installed by the street ( as you see in the image ).
Beautiful design: As you can see in the image it is designed beautifully does not make the city face ugly but makes it beautiful. In designing this product we have considered modern designing parameters.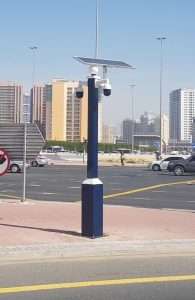 Where is it first launched? Cellphone violation detection camera has been launched in UAE (United Arab Emirates ) for the first time and it is gonna be launched all around the world.
How can you order this product? you can see the Cellphone violation detection camera product page simply just by clicking here.
About MTP: what do you know about MTP? This is a traffic product manufacturer you can see its details on This Page.
What are the other products? MTP manufactures traffic products since 2006. You can see traffic products like solar traffic signs and traffic lights just by clicking on HERE. And also you can see other smart traffic enforcement cameras and radars like your speed sign, Red light camera, speed camera radars, etc. ) just By clicking on the following links.